Amisulpride Powder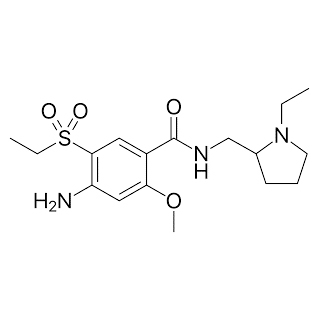 Amisulpride Powder
Price And Quantity
Kilograms/Kilograms

200- 250 USD ($)
Product Description
Amisulpride, sold under the brand name Solian among others, is an antipsychotic medication used to treat schizophrenia.[1] It is also used to treat dysthymia.[5] It is usually classed with the atypical antipsychotics. Chemically it is a benzamide and like other benzamide antipsychotics, such as sulpiride, it is associated with a high risk of elevating blood levels of the lactation hormone, prolactin (thereby potentially causing the absence of the menstrual cycle, breast milk secretion not related to breastfeeding, impaired fertility, impotence, breast pain, etc.), and a low risk, relative to the typical antipsychotics, of causing movement disorders.[6][7][8] It has also been found to be modestly more effective in treating schizophrenia than the typical antipsychotics.[7]
Amisulpride is believed to work by reducing signalling via the dopamine D2 receptor. In amisulpride's case this is by blocking, or antagonizing, the receptor. Amisulpride's effectiveness in treating dysthymia and the negative symptoms of schizophrenia is believed to stem from its blockade of the presynaptic dopamine D2 receptors. These presynaptic receptors regulate the release of dopamine into the synapse, so by blocking them amisulpride increases dopamine concentrations in the synapse. This increased dopamine concentration is theorized to act on dopamine D1 receptors to relieve depressive symptoms (in dysthymia) and the negative symptoms of schizophrenia.[5]
It was introduced by Sanofi-Aventis in the 1990s. Its patent had expired by 2008 and hence generic formulations are now available.[9] It is marketed in all English-speaking countries except for Canada and the United States.[8] A New York City based company, LB Pharmaceuticals, has announced the development of a version of amisulpride specifically targeting the United States although it is unclear when that product would actually be on the market.[10] A poster presentation at ECNP[clarification needed] seems to suggest that this version of amisulpride, known as LB-102 displays the same binding to D2, D3 and 5HT7 that amisulpride does.[11]
Contact Us
B-304, Nilamber Edifice B/H, Bright school, Vasna Bhayli,, Vadodara, Gujarat, 391410, India
Phone :+918035063506